Compak E10: User Manual
Set Up Your Compak E10. In this manual, you should find everything you to need to operate and maintain your conical burr commercial espresso grinder.
Please read carefully before using your Compak E10.
If you have any other questions, be sure to contact us.
Setup Video
Grinder Diagram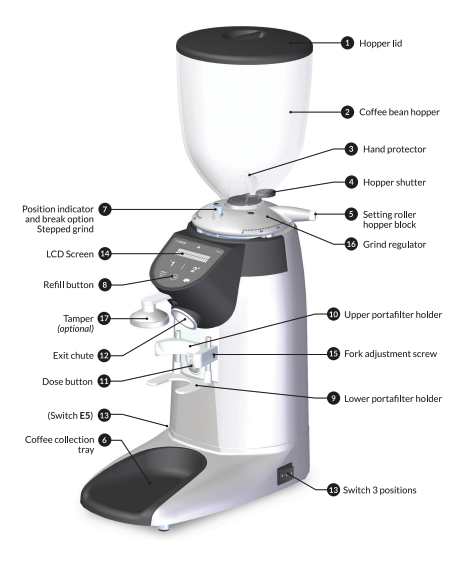 Grind Adjustment
To adjust the grind setting, ensure that the collar's (16) set screw (7) is loosened by rotating it counter-clockwise until there is no more resistance. It is not removable, ensure that you do not loosen too far as this will re-engage the lock. Lower numbers on the collar indicate a finer setting, higher numbers indicate a coarser setting.
Remember, this means that rotating clockwise makes the grind coarser and rotating counter-clockwise makes the grind finer – this is opposite to how most grinders operate.
Timed Dosing
To adjust the timed dose settings press the menu button followed in quick succession by the number representing the dose setting you'd like to change. The display will begin blinking. By pressing the plus and minus buttons you can change the timed dose. To save and exit simply press the menu button again.
Technical Details
68 mm conical steel burrs
Height: 25"
Width: 8.5"
Depth:15.34"
Weight: 38 lbs
Bean hopper capacity: 3.75 lbs
Voltage: 110/120V
Power: 825W
Burr speed: 400 RPM
Grind speed: 7 grams in 1.9 seconds
Now you're ready to start pulling shots! Check out our Espresso 101 section to learn about steaming milk, latte art, our suggested starter espresso recipe, grinder dial-in tips and much more.
Helpful Links
Still have questions? Reach out to our coffee experts and technicians.