Baratza Vario: User Manual
Set Up Your Baratza Vario. In this manual, you should find everything you need to operate and maintain your burr coffee grinder.
Please read carefully before using your Baratza Vario coffee grinder.
If you have any other questions, be sure to contact us.
Setup Video
Grinder Diagram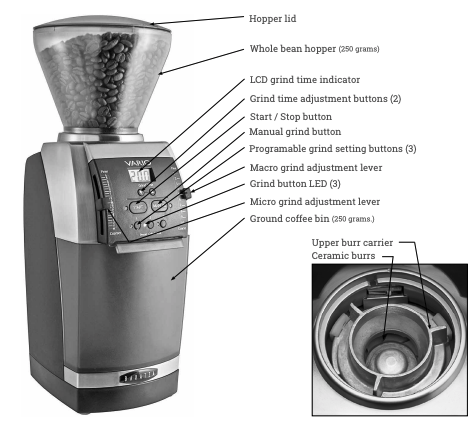 Grind Adjustment
Grind adjustment on the Vario is accomplished through use of its two grind adjustment levers. On the left is the micro adjustment lever and on the right is the macro adjustment lever. For both, a higher position indicates a coarser setting. Generally you'll find espresso to be in the 1-2 macro range and pour over/drip coffee in the 7-9 macro range. Use the micro lever for fine tuned adjustments.
Timed Dosing
To adjust timed dose setting on the Vario start by pressing one of the three programmable grind setting buttons. To change the time of the programmable button, use the two grind adjustment buttons (the two with up and down arrows) to increase or decrease the time on the display. Once you have it where you want it press and hold the desired button until the light on the grinder blinks, indicating the setting has been saved.
Upon pressing the grind button the grinder will automatically stop after the designated amount of time.
Technical Details
54 mm flat ceramic burrs
Height: 14.1"
Width: 5.1"
Depth: 7"
Weight: 9 pounds
Voltage: 110V
Burr speed: 1350 RPM
Bean hopper capacity: 8 oz
Grounds bin capacity: 8 oz
Grind speed: 1.6 - 2.2 g/sec
Grind range: 230 to 1150 microns
Now you're ready to start pulling shots! Check out our Espresso 101 section to learn about steaming milk, latte art, our suggested starter espresso recipe, grinder dial-in tips and much more.
Helpful Links
Still have questions? Reach out to our coffee experts and technicians.