We have selected some common questions and answers that our friends from Baratza get quite often, and thought we'd share those here. We cover reintalling the lower burr, calibrating the Sette, as well as the plastics we use in the bin.
I'm having problems getting the lower burr reinstalled
If, after removing the lower burr/adjustment assembly, you are unable to reinstall it – its as if the parts are not inserting far enough to seat properly, it probably means that there is an accumulation of coffee grounds preventing reinstallation of the lower burr/adjustment assembly.
If you notice your micro adjustment ring moving toward the coarse direction you can correct this by simply tightening the three screws on the bottom of the adjusting ring. To do this, remove the adjusting ring and burr and turn it over to see the screws, tighten the screws up a little (maybe a 1/16 of a turn) and re-install the adjustment ring/burr and you should be fine. Do not over tighten the screws or you risk stripping the threads.
If the issue persists it may be because there is insufficient friction between the micro adjust collar and adjustment assembly. This can be solved by inserting some felt shims. See this guide for instructions. The felt may be purchased at your local hardware store and cut to size or you can email Support@Baratza.com with your shipping address and they will send them to you.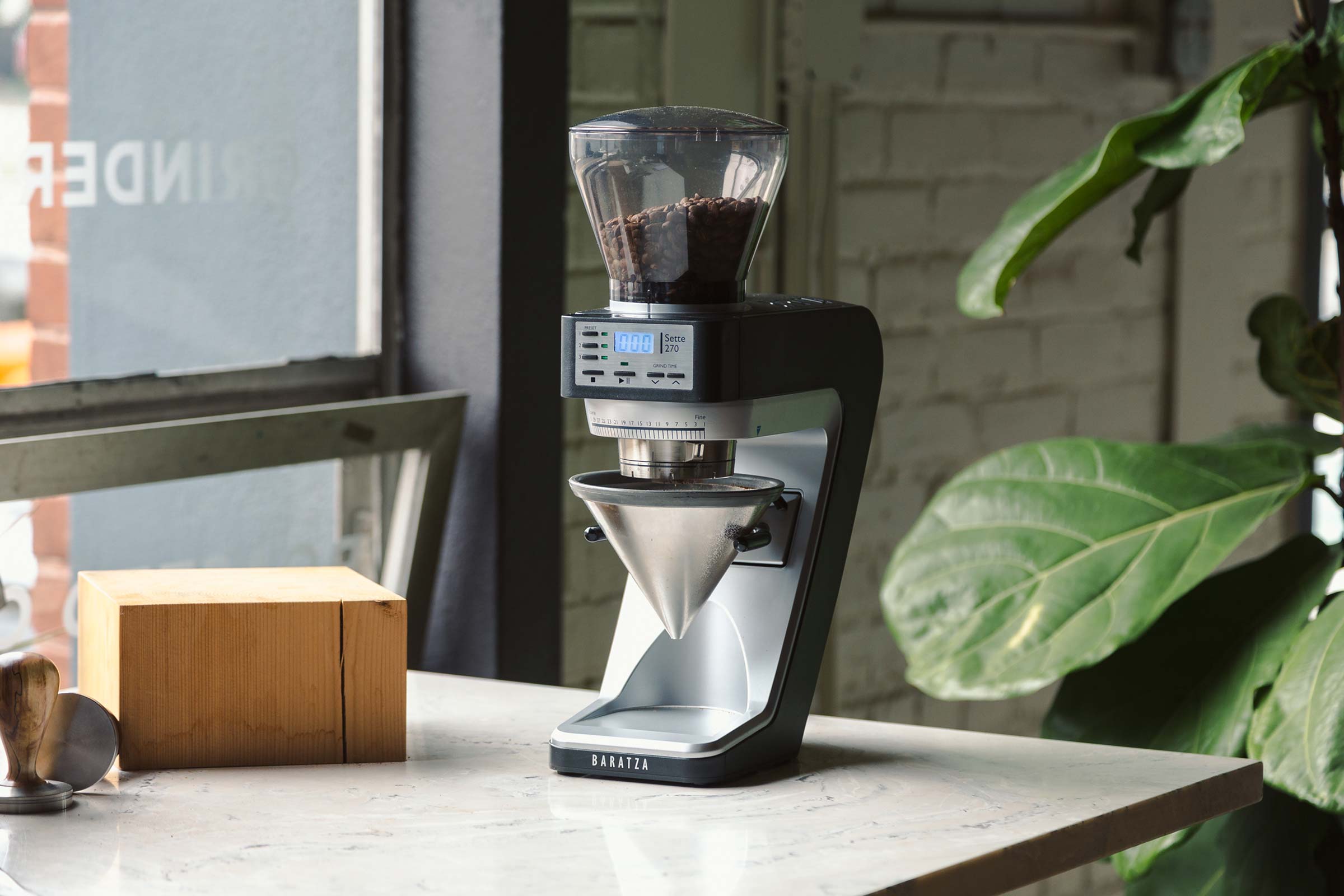 Yes, we have re-designed the arms and the portafilter hook, since the initial tester Settes, to accommodate portafilters from sizes 49mm to 58mm. The rubber sleeves on the arms are fully rotational allowing you the option to position them in a way that best suits the tool/brew-method you are using – portafilter, grounds bin, Hario, Kalita etc. There is a small tab on the end of the sleeve that is used as the stopping point for most portafilters. However some, like the La Marzocco we use in many of our images, sit better when the stop tab is turned down. If you are working with one of the earlier Sette versions and would like a newer set of arms, please email Support@Baratza.com and they will send them to you.
Is it possible to calibrate the Sette?
Yes it is possible to calibrate the grinder finer for espresso with the addition of some shims, which are included with your grinder. If you did not receive a package with shims please email Support@Baratza.com. They will send you a pack with instructions for installation and usage. Currently, we do not recommend calibrating the Sette for coarser grinding beyond the factory setting as the grind becomes less consistent. Click here to see Baratza's blog post about when, why, and how to install these shims. Detailed instructions for calibration are shown in the grinder manual, as well as in this video:

What's this we hear about another burr for the Sette?

The Sette 270 and 270W are designed to be great all around grinders, with the addition of the step–less micro adjust offering the ability to dial–in, making it great for espresso. The grinders come with an all purpose burr which has generally been very well received. As a grinder company we have learned that coffee professionals and enthusiasts all have very different taste expectations and approaches for manually brewing coffee. As a result we are working on a second burr that offers a different grind profile in the coarser range. We have been sending these out for testing and the feedback has been positive. At this time we we do not have any more of these coarse burrs available.
What kind of plastic do you use in the bin?
As a result, some professionals are tempted to use it in high volume commercial situations. However, please know that overuse in a commercial setting could cause slowdowns or stoppage, which may impede your operations and service.
Here is a general overview of the duty cycle of the Sette Series:
Espresso (Settings 3-9) it will take about 6 seconds to grind a dose of espresso, then the grinder should rest for 60 seconds. This is about what you could do if making back-to-back shots on a one-group machine.
Brew (Setting 15-30) it will take 5 to 30 seconds to grind up to 150 grams of coffee, then the grinder should rest for 60 seconds.
Remember, a maximum of 150 grams at one time, with a 1 minute off before grinding again.
The duty cycles described above will work great for home brewing. If you choose to use it in a commercial situation, please think about the Sette's duty cycle function and decide if this will be a successful choice for your bar setup.
Helpful Links