Baratza Encore + Encore ESP
Baratza Encore ESP: Setup Guide
Congratulations on your new Encore ESP! In this guide, you should find everything you need to set up and operate your all-purpose coffee grinder.
For a list of included accessories and specifications, please review the Baratza Encore ESP product page.
Unboxing and Inspection

Remove the grinder from the box and place it on a stable, level surface.
Before assembly and operation, inspect for damage that may have occurred during shipping. If you notice any damage, contact us immediately.
Grinder Diagram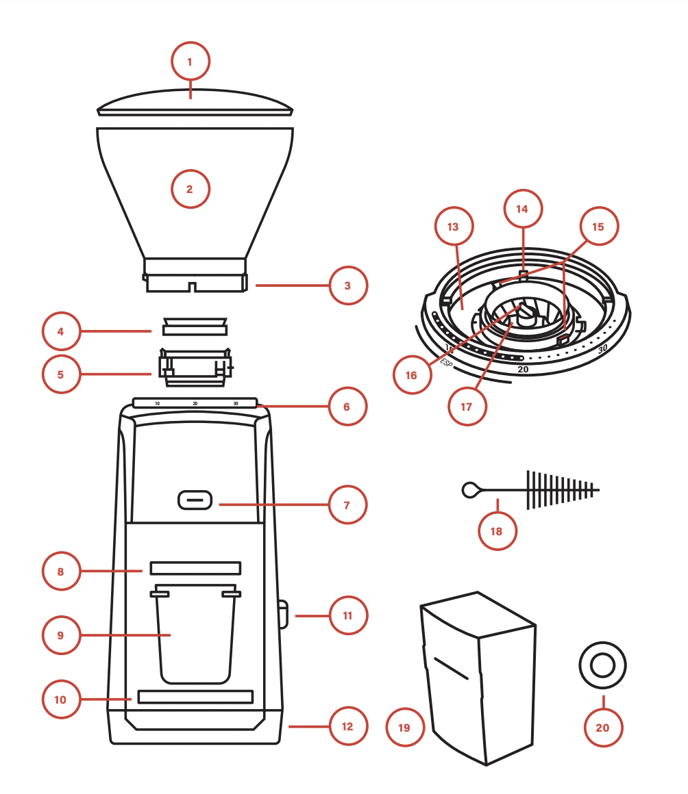 Setting up your grinder
Dialing in your grind
If you elected for Clive to dial in your grinder, we recommend pulling a shot before making a grind adjustment.
To adjust the grind size, move the hopper lid clockwise for a finer grind or counterclockwise for a coarser grind.
We can't stress this enough — to have success at dialing in an espresso grinder, you need fresh coffee. If your coffee bag doesn't have a roast date or is older than one month, you can order some directly from us and have it shipped to you at your desired frequency. Check out our coffee selection by Mistobox.
Additional Resources
For help dialing in your equipment or pulling shots, check out the articles below or reach out to our team of coffee experts and technicians.