M4D / M7D: User Manual
Set up your Macap M4D or M7D espresso grinder. In this user manual, you should find everything you to need to operate and maintain your burr espresso grinder.
Please read carefully before using your Macap M7D or M4D espresso grinder.
If you have any other questions, be sure to contact us.
Setup Video
Grinder Diagram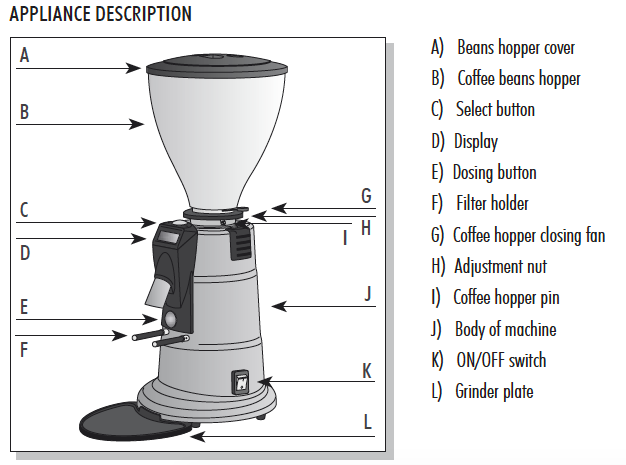 Grind Adjustment
Grind adjustment on the M7D is accomplished using the the worm gear (H) located behind the grinder's hopper. Lower numbers indicate a finer grind and higher numbers indicate a coarser grind. This grinder is infinitely adjustable, so keep in mind that the numbers are simply a reference point.
Timed Dosing
The Macap M7D has 3 programmable timed dose settings. To alter these, press and hold the silver button above the display (C) until the "PROG." menu appears. Spinning the button allows you to choose between the 3 settings and pressing the button will allow you to edit that setting. After selecting one, spin the button to increase or decrease the timed setting. To save and exit press the button once more, then spin the button counter-clockwise until you reach "EXIT", then press again.
Technical Details
68 mm conical steel burrs
Height without hopper: 15"
Height with short hopper: 20"
Height with tall hopper: 25"
Width: 10"
Depth: 14.25"
Weight: 36 lbs
Voltage: 110V
Power: 800W
Burr speed: 350 RPM
Bean hopper capacity: 3 lbs (1lb short hopper available)
Grinding output: 4.5 g/s
Now you're ready to start pulling shots! Check out our Espresso 101 section to learn about steaming milk, latte art, our suggested starter espresso recipe, grinder dial-in tips and much more.
Helpful Links
Still have questions? Reach out to our coffee experts and technicians.