Unboxing Your Machine
Learn how to properly unbox your espresso machine to minimize damage and to keep things intact in case you need to repack your machine and ship it back.
At Clive Coffee, we invest the necessary time to ensure that your equipment arrives safely and in good working order, so most equipment is bench tested by our technicians before shipment. Bench testing includes plumbing or filling espresso machines and running them through duty cycles in order to ensure there was no damage to the machine in the trip from Italy. We also use quality packing materials and use double boxing when necessary.
We advise you to inspect your purchase when it first arrives for damage during shipment.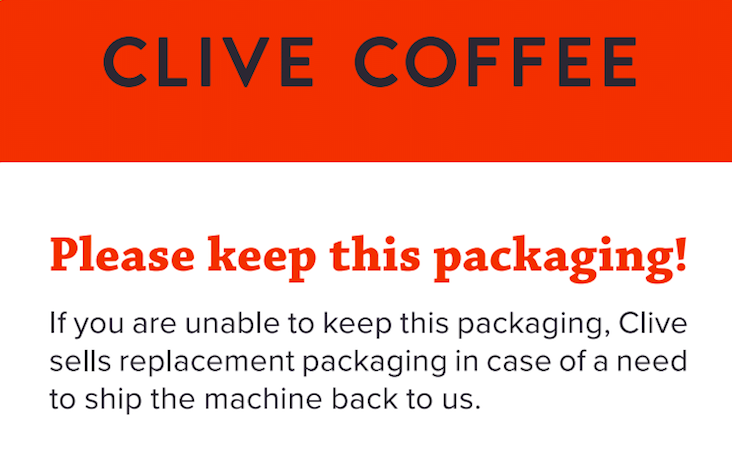 Please inspect your package when you receive it from UPS. If there is evidence of exterior damage to the shipping carton and the delivery person is present, ask them to note it on their delivery manifest and request a damage claim form. Should it be necessary for you to submit a damage claim the notation on the manifest may prove to be very helpful. If you find that your machine is damaged from shipping, please call UPS at 1-800-742-5877 to report the damage. You must also contact us within 5 business days. Make sure that you keep all packaging (boxes, shipping labels, packing material, etc.) as UPS will need to inspect not only the machine but the packaging as well. For UPS terms and conditions click here. Once we receive a claim number from UPS, we will be more than happy to take care of the problem to your satisfaction.
Please note the following:
Espresso machines and grinders should be plugged into a dedicated 15 amp (or 20 amp) GFI outlet to provide an adequate supply of power to the unit(s) and prevent damages in the event of a power surge or electrical short.
Some minor water splashes may occur during our bench testing. Unless otherwise stated (next-to-new or refurbished), all purchases at Clive Coffee are new from the manufacturer. We do not sell returned machines as new.